Format of the Course
The focus of the course is target shooting with a recurve bow, and this is the type of archery you will be practising throughout the course. You will also see demonstrations of recurve, longbow and compound bows, be shown how to score, assemble a target, and you will be introduced to the rules and procedures necessary to enjoy archery safely. On successful completion of the course you will receive a certificate and be invited to apply to join the club.
Our Coaches
All of our courses are lead by Archery GB accredited coaches, supported by other coaches and experienced club members. We are not a business, and so all courses rely on voluntary time offered freely by our members. This is why we (as all clubs) are limited to how many courses we can offer each year.
What to Wear
You will want to wear warm clothing that isn't too loose fitting, so that you won't catch the bowstring on your clothing. Sensible footwear is also a must, with no open-toed shoes or high heels.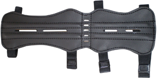 We will provide you with an arm guard and finger tab while you are on the course. The arm guard straps to your bow arm and protects you from the bowstring (which can sting a bit if the string catches you), while the finger tab protects your fingers when drawing back the string.
Joining a Course
All participants must be at least 8 years of age at the start of the course. The course costs £80 per person, which covers all sessions. Any attendees under the age of 18 must be accompanied by a responsible adult at all times while on the course.
To register your interest in a course, please fill in the form below.
Join the Waiting List
If you would like to join one of our courses, please fill in this form. We won't spam you with messages, and there is no commitment to attending a course if you join the waiting list - we only use this to inform you when a course is scheduled.
You'll need to provide your email address and first and last name so that we can contact you. It would also be helpful for us if you could tell us how many adults (18 and over) and juniors (8 - 17) you would expect to be attending, but you don't need to fill these in and we don't mind if you end up bringing more or fewer people.
Please don't use this form to join an existing course. If we have a course starting soon, there will be a link to our online store at the top of this page which can be used to join the course.