Rounds
When you shoot a round in archery, you shoot a set number of arrows at a target at set distances. For example, a standard Western round consists of 4 dozen arrows shot at a distance of 60 yards, followed by another 4 dozen arrows shot at a distance of 50 yards. There are also different categories of Western round shot at different distances, such as a Western 40 where the distances are 40 and 30 yards instead.
All AGB outdoor Imperial rounds use a 122cm target face, and are scored using the 5 zone method (Gold = 9, Red = 7, Blue = 5, Black = 3 and White = 1). The targets are set out at distances from 20 yards to 100 yards. The furthest distance is always shot first and then the distances are reduced according to the round (see the tables below for details of all of the rounds).
There are also Metric rounds, with distances measures in metres rather than yards, which use all 10 zones for scoring (ranging from 10 to 1):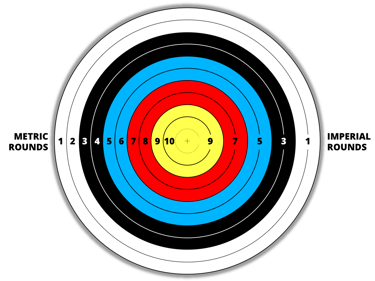 A round will start with an end of sighters. This is an end of arrows that are not scored and are shot at the furthest distance to allow archers the opportunity to check their sight marks. Sighters are only shot at the beginning of the round and are not shot when the distances change, so it is advisable to ensure you have reliable sight marks for the given distances ahead of attempting a round.
Typically during a competition a short break will be had when the distances are changed. As a rule of thumb it can take up to one hour to shoot 2 dozen arrows, and it's advisable to bring along a snack or lunch to competition shoots.
Scoresheets
Scoresheets for the various rounds, along with clipboards, are kept in the filing cabinet in the club hut. When shooting a round, be sure to put your completed scoresheet in the box file for the records officer to pick up to ensure your score history and handicap are kept up-to-date.
If you shoot a round at another club or at an Open Shoot, ensure you get a copy of your score to the records officer so your score history and handicap can be updated.